Introduction
Spike uses a payment gateway (Paystream) to process payments via direct debit or credit card, which is automatically reconciled against families fees.
Why use an EFT System?
Increased cashflow – no need to wait for parents to pay you, you can be in control of the direct debit / credit card payments.

You can set up a payment plan for your families – eg they can pay current fees and if required make extra payments for an outstanding debt.

Automatic receipting.

Reduces data entry.
If you think Spike's EFT System is for you, follow these steps:
For assistance with getting started request a Spike Helpdesk Callback or email the helpdesk at helpdesk@economicoutlook.net.

If you already have your own internet merchant facility, then please discuss this with the Spike Help Desk.

Visit the Paystream website at www.paystream.com.au/register/spike and complete the online application form. To complete the application form, you will need to provide the details listed below.

Company details

Contact details

Business activity details

Director details

Banking details

A copy of your bank statement
Once you have signed up, participating parents/guardians must complete and sign a direct debit authority.
You can find these in Spike Viewer:
Reports > EFT > Paystream > Direct Debit Authority.
This will give you permission to debit their bank account or credit card for fees payable.
For Terms and Conditions:
Reports > EFT > Paystream > Terms and Conditions
To Set up Spike's EFT System
| | |
| --- | --- |
| Tip | Create EFT Authority BEFORE the EFT Schedule |
Create EFT Authorities
This is where you enter the person's bank or credit card details.
Go to Select → Account → Select the Account → Fees tab

Right click → Create EFT Authorities

Right click Create. Enter dates, payment method (either bank account or credit card) and the payment details. OK.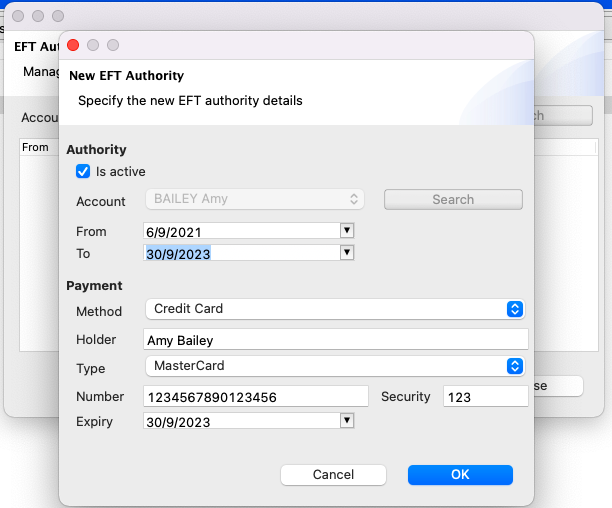 Create EFT Schedule
This is where you enter the start date for the payment, the frequency and set a maximum deduction amount (recommended).
Whilst still in the Account → Fees tab, right click → Create EFT Schedule

Enter from and to (if required) dates.

Select the Frequency, Gateway (Paystream - not Cloud Payment as shown in the example), Maximum Deduction and Cost Centre. OK.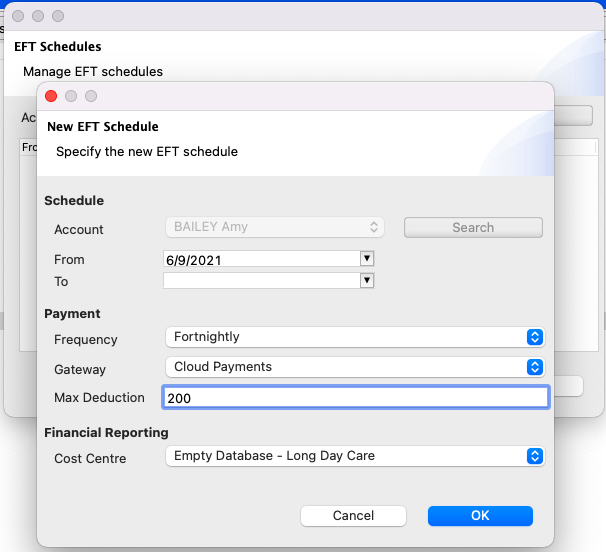 Manual EFT payments
If an account is in arrears manual / adhock payments can be used in between regular EFT payments to pay the outstanding balance while the regular EFT payments pay the current childcare fees.
To manually create an EFT payment:
Go to Select → Account → Select the Account → Fees tab

Right click → Create EFT Payment

Enter Description, Date, Amount, Payment Gateway (Paystream) and Cost Centre. OK.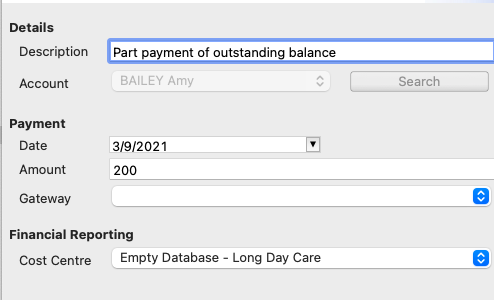 | | |
| --- | --- |
| Tip | Spike will only create a recurring payment from an account once in a 7 day period. Manual / Adhock payments do not affect recurring payments. |
Scheduled EFT Payments
Now you have set up the EFT Authorities and Schedules you can generate your recurring payments.
Once attendances have been sent to the CCS system and CCS has been applied to your families accounts, go to:
Select Service → Select your Service →Billing tab

Right click → Select all → Create EFT Payments

A list of all of the accounts using Paystream will display

Transactions that are within schedule constraints are pre-ticked.

Transactions with an orange tick are pre-ticked but are slightly different from previous payments. You may want to check the amount.

Transactions with a red dot require you to manually tick them. This may be the first time this account has used Spike's EFT payment system.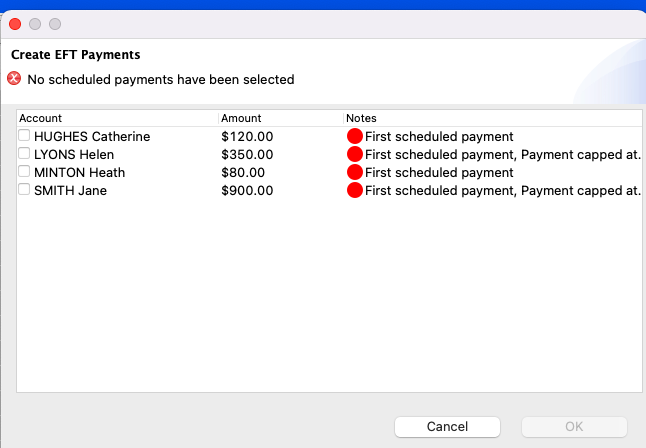 Once you have checked all transactions and they have a tick, click ok.
To cancel EFT Authority and Schedule
Go to the Billing tab in the account

Right click → EFT Schedule

Enter an end date into the schedule → OK

Right click → EFT Authority

Enter an end date into the authority and untick 'is active'
Reports
It is very important to run these reports
EFT Client Details

Lists details of all accounts using Paystream, including Name, Dates, Max Deduction (credit), Frequency, Status

EFT Settlement

Shows all successful payments

EFT Transaction Detail

This is a detailed report of each transaction by account

EFT Transaction Progress

Shows progress of each EFT transaction for a given date range, including, EFT response eg. If transaction is successful and if not why?
| | |
| --- | --- |
| Important | Run the EFT Transaction Progress report weekly to ensure payments are successful. PENDING transactions are transactions that have incorrect credit card or bank details. They remain PENDING until the correct details are entered. PENDING transactions do not dishonour as Spike has not received clear instructions from the financial institution |